March/März/Mars/Marzo/Mart 1998
"Die Schlangenmädchen" (The Serpent Girls)
Bronze medals at the European Circus Festival 1992 and "La Piste Aux Espoirs" 1990

Acrobatics - Contortion - Dance - Gymnastics - Circus - Show


....sternchen means "little stars" and is the artistic name of our group.
By a targeted talent selection a high level of achievement is worked towards, that makes participation in international circus festivals possible. Since 1985 we have been to numerous festivals, winning 2x gold, 2x silver and 5x bronze.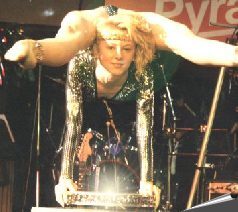 IVANKA
Gold medal at the First European Circus Festival - Bronze medal at "La Piste Aux Espoirs"
---
"Showsternchen" ist der Künstlername unserer Gruppe.
Auf zahlreichen internationalen Zirkusfestivals konnten unsere Darbietungen seit 1985 zwei Gold-, 2 Silber- und 5 Bronzemedaillen erringen.
Unsere circensischen Aktivitäten haben jedoch einen sportlichen Hintergrund, denn auch im Kunstturnen und in der Sportakrobatik waren und sind unsere Mädchen erfolgreich. 60 Deutsche Meistertitel und 55 Deutsche Vize-Meisterinnen sind die Bilanz. Heimatverein ist der HORNER TURNVEREIN im Osten der Hansestadt.
....sternchen sont "petite étoiles".
Grâce à une sélection bien ciblée des talents, notre groupe produit des réalisations de grande qualité, ce qui permet de participer à des festivals internationaux de cirque. Composé exclusivement de jeunes filles a participé depuis 1985 à de nombreux festivals. Récompenses obtenues: 2 d`or, 2 d`argent 5 de bronze.
....sternchen es el nombre artistico del nuestro grupo.
Después de una selección de talentos en cada año y entrenamiento intensivo, participaciónes al festivales internacional del circo son posible. Hasta aquí habemos ganar 2x oro, 2x plata y 5x bronce.

Support the initiative of "SKA" !!!
Book for the ICC and come to COSWIG/DRESDEN from April 30 to May 3rd this year. Mouse to the ICC site via "CHP" !
Have you ever seen this young lady ?
Meet her and the wonderful people from the"ArtistenCentrum" ! Josina, three years older today than on the pic and pupil of BrigitteSeliger, will present her new act, created by SKA.
---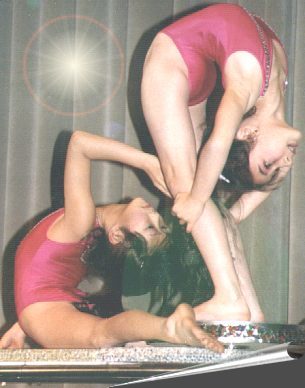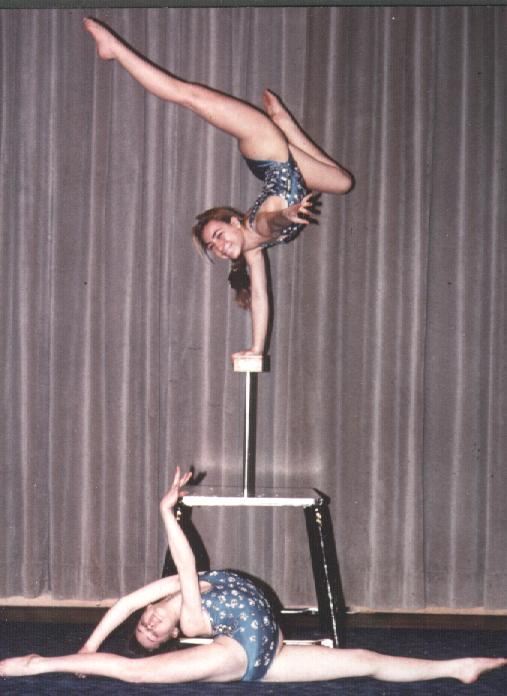 "Ngan & Rebeka" + "Jenny & Gloria"
Silver medals at the European Circus Festival for Young Stars
Long legs are coming up....

they belong to Isabela, an actual limber girl of the "HamburgerShowsternchen"

....sternchen sono "stelline", Showsternchen è il nome artistico dell' nostro grupo. Noi siamo solamente ragazze (eccezione "Maestro Grassy"), e da 1985 hanno participato al numerosi festivale del circo in Europa con questo bilancio: 2x d'oro, 2x d'argento e 5x bronzo. Ma oltracciò siamo fruttuoso anche nella ginnàstica artistica e l'acrobazia sportiva.
Sorry, we are some more...

Or do you prefer this one ?....

Dit zijn de slangenmeisjes van de "Hamburger Showsternchen". Als je nederlands praat hoef ik niet te verklaren wat ...sternchen bedoelt. Onze groep is niet alleen welbekend bij alle "Contyfans", maar ook in de hele circus wereld. Sedert 1985 zijn wij bij verschillende internationale circus festivals succesvol opgetreden, zoals in Parijs, Wiesbaden, Tournai, Verona en Budapest. 2x goud, 2x zilver en 5x brons zijn toch een goede balans, hoor?
---
Hi, my name is Janine !
This is the way I watch tv programs, it's easy!
The other girl is Thuy Linh, my partner at the International Circus Festival in Budapest 1996. But let her introduce herself:
Hi, my parents are vietnamese people and I'm working in acrobatics and contortion since I was 7. You see, there are only few girls on the web sites like me and my partner Janine. My specials are the splits but also close backbends. Janine and I can press every handstand, do the double full on floor (yes we are also good tumblers!) and...., well my coach can tell you more.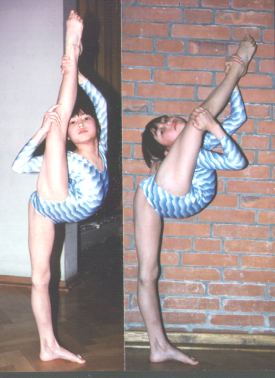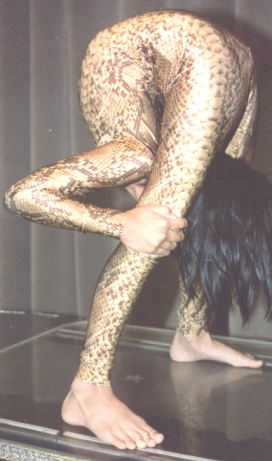 ---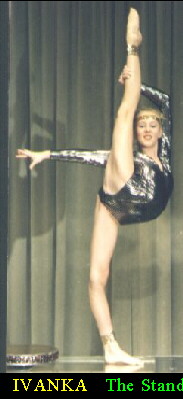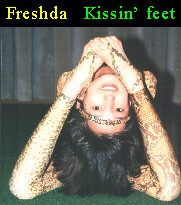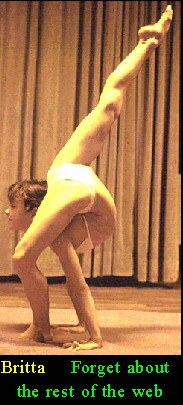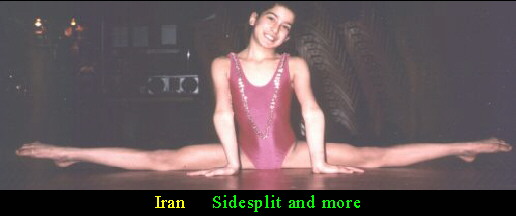 More "Galaxy Stars" coming up...
Gymnastics Corner - New Trainings Pics - Sportacrobatics


Grassy